---

PRIVATE CHARTERS

6 passengers maximum

$600  4 hours
$900 6 hours
$1200 8 hours

* This is the most preferred.

---

  You have the boat to yourselves.

  You can request to fish the bottom for Gray Snappers, Amberjacks,  Ulua and Rainbow Runners or continue trolling the top for that  trophy fish

  With no strangers on board, any fish that hooks up is all yours to reel in.

  You may also return early to dock if you feel your arms can't take anymore.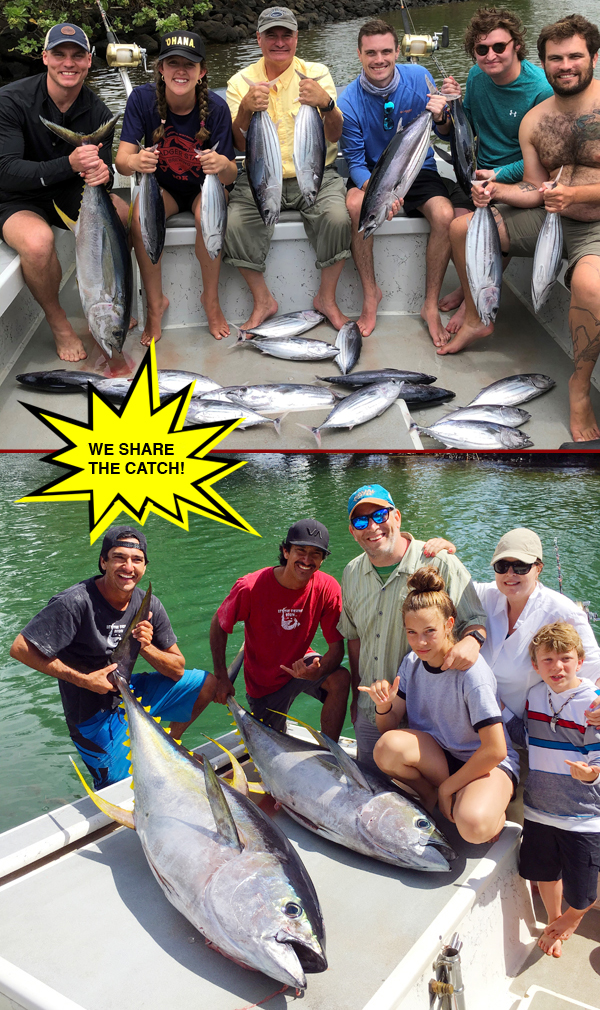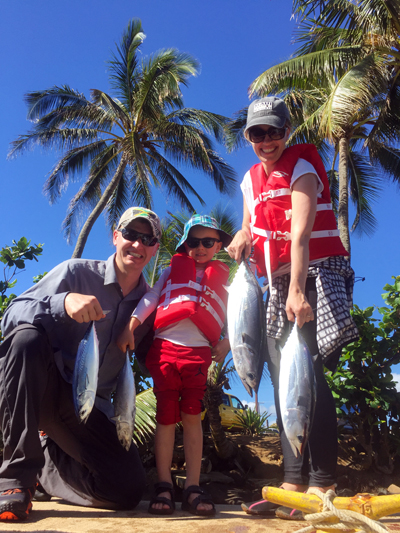 ---

SHARED CHARTERS

6 passengers maximum

4 hours   $140 per person

This is the most affordable, but remember …

---

  You are sharing the boat with other anglers.

  Everyone takes turns.  Once a fish is brought on board, the next strike goes to the next angler.

  If you happen to get motion sickness, we cannot return to dock unless agreed upon by other shared anglers.

If you are a beginner, Captain will guide you every step of the way so you can land that trophy fish.
Tours not recommended for people with:

  Back problems or any other condition that can be aggravated with being in the open ocean.

  Pregnant women in their 2nd and 3rd trimester.

  Children under the age of 7 not advised.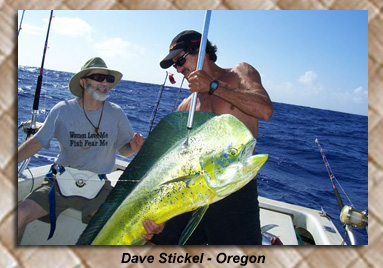 If you have a tendency to get motion sickness, medication should be taken the night before and once again before your trip.  Please consult your physician for recommendations.

"My Dad had originally found Hawaiian Style and had made the reservation… Now that we have been twice, I'm pretty happy to say that Terry and his crew know where to go and what to do to reel in some fish.

Make no mistake this is no luxury boat.  It's utilitarian and it suits the purpose for what Terry wants to do… and Terry wants to catch fish !  Make no mistake he is a fisherman.

We booked for the morning and that means being at the dock @ 6.30a.  By 6.45 you are out past the break and the lines are in the water.  Having been twice, I saw that Terry uses different methods but each are winners.  First trip we reeled in a couple of skipjack, a couple of small Ahi Tuna (Less than 30lbs) and a Wahoo.  Terry has ice in the hold and the fish go from ocean to icy hold immediately …"

November 15, 2016 – Testimonial via Yelp
"Without a doubt the best charter I have ever been on. These guys got us on the fish early in the morning and even when the bite slowed down they weren't afraid to change set ups to keep us in the fish. When the tuna stopped we came closer to shore for some bottom fishing. Right as we were about to head in, we spotted a small school of mahi mahi swimming about 20 feet from the boat and they worked quickly to get a pole set up and hook one right off the bat. Even though it was time to come in, they set up trolling lines and did a couple of passes so we could hook another one before we headed in. The crew is very helpful and polite, they explain why they do things so you can get the best experience possible. They were very generous with the amount of fish they shared and gave some helpful tips on how to cook it. If I come back, I will go with these guys [Hawaiian Style Fishing] again."

August 2019 – Testimonial via TripAdvisor