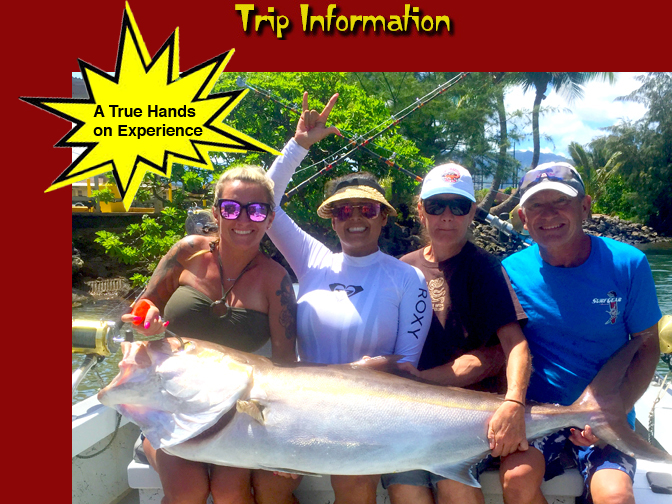 We have all the necessary tackle and gear.
 Island fruit juices, soda and water are provided on all tours. Feel free to bring your preferred munchies or alcoholic beverages (can). Captain has all the ice.
 With the ocean spray on your face and fish smell on your shorts captain recommends dressing casual and comfortable.
 YES, WE SHARE THE CATCH!
Captain shares a generous portion of the fish that is caught on board. Regardless if you landed the fish or not, as long as there is fish on board  you are going home with enough fish to barbecue and have a couple meals while here on island.
 To help keep our tours affordable for you, any remaining fish captain will sell  to the markets. This covers the expense of operating the boat, maintenance, and the rising cost of GAS. As our profits are from selling fish, you can be sure this won't be just another boat ride.
 Be sure to leave the bananas at home. This tropical fruit is considered bad luck by many local fisherman.
 We do offer taxidermy service for that trophy fish. A conversational piece that will last a lifetime.
Once your reservation is confirmed, we will ask for a credit card (visa or mastercard) to hold your spot. Your card will not be charged until your charter has been completed. At that time you have the option of paying with cash or a different credit card.
All cancellations must be made 24 hours before your scheduled trip for a full refund, otherwise you will be charged the full tour amount.
No refund for charters returning early due to motion sickness.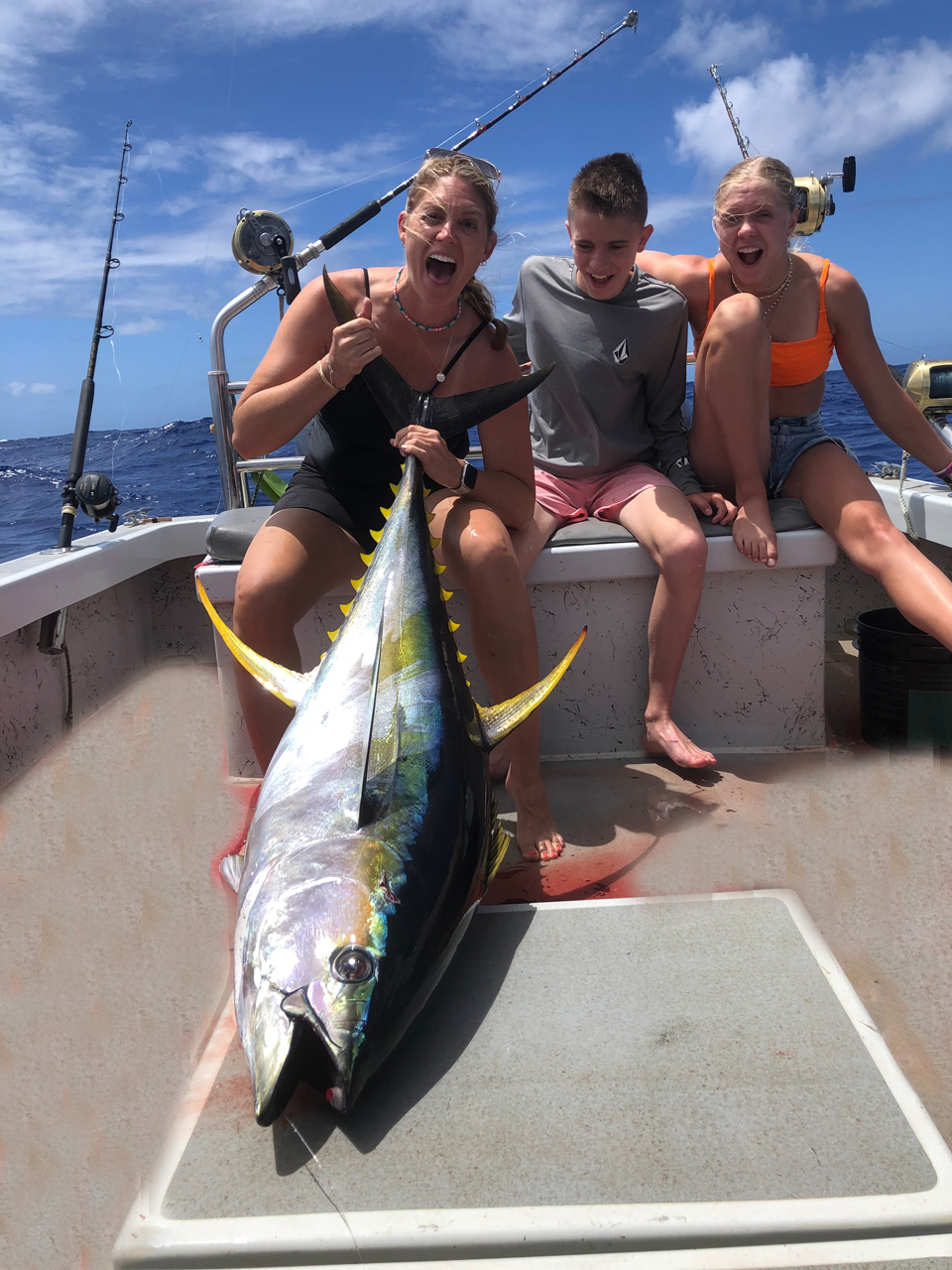 "You can't go wrong with these guys! … We found Hawaiian Style Fishing next door to our Pono Kai Resort and booked them, hoping for some luck. We couldn't have experienced a better trip! We went out with Captain Tyler and he delivered. Great gear, fresh bait, a positive attitude, and a wealth of knowledge about where to find fish. As a female angler, I always prepare for a little condescension or impatience when I join an experienced crew. However, the brothers were pretty awesome and I will fish with them again when we inevitably return. Thanks guys! Sorry for any mistakes or missed protocols. At the very least, I left the banana at home!! Mahalo!"

January 2019 –  Testimonial via TripAdvisor
"Fishing Charter. Captain Terry was fantastic! He knew exactly when to change lines, lures, and position in a timely fashion. His equipment is top notch and well cared for. The boat is quiet and extremely well maintained. It does not kick back a lot of diesel, either. Terry us a true Hawaiian born and bred fisherman with a great attitude. We thoroughly enjoyed his company and expertise. Can't wait to return to Kaua'i again later this year for another fishing trip with him!"

November 2018 – Testimonial via TripAdvisor